Carnival Queen (Bingo) Restoration - Playfield and Apron
Well finally got my hands on a bingo machine. Being a 1950's machine, my aim was to keep it as original as possible. Will be mainly cleaning up the playfield and cabinet and getting it running. These machines are huge so had to be transported in 2 vehicles. Here are some picts of the giant and heavy headbox of the Carnival Queen Bingo. As I was on my own, I managed to get it out of the car without dropping it.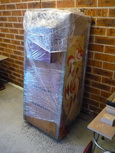 UPDATE: Have had machine for 5 years and decided to repaint the cabinet and backbox as well as cleaning up the woodwork. Also the backglass has had a repo foil / decal applied to a new piece of glass. Full resto covered
HERE
Playfield
The playfield was in good condition, cleaned up and waxed. All rubbers replaced. All
Bulb Sockets Repaired.
New apron cards were made.
Before





After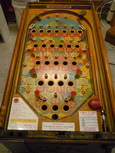 Apron

New Apron cards were made.