THE GAME PLAY
Gottlieb JUMPING JACK 1973 - 2 Player
The Game Play
When the entire bank of drop targets are knocked down, either a special or an extra ball is acheived.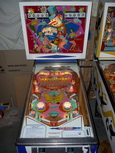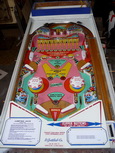 Rating
This is a drop target machine.
Playfield is a Symmetrical layout with a bank of 10 drop targets as the main feature. Has Four flippers, two upper and two lower. The unusual part of the playfield is the two pop bumpers placed just above and outside the lower flippers. This provides some fast, and sometimes frustrating action.
ENTERTAINING GAME.
Judge for yourself.
Here is a short video by Rod of the bottom bumpers in action.