Bullfight Restoration - Playfield
First task was to remove the playfield out of the cabinet and place on my rotisserie. Removed all rubbers, lane guides, plastics, pop bumper assemblies - Completely stripped all parts from the top of the playfield. Cleaned playfield with
ISOCOL RUBBING ALCOHOL and MAGIC ERASER
then applied
NOVUS 2
and finally applied
CARNAUBA WAX.
Decided not to attempt any playfield touch-ups. Cleaned all playfield post and all rubbers were replaced. Replaced Pop Bumper bodies, flattened and cleaned all plastics, checked and replaced all bulbs - Fitted LEDs at pop bumpers and inserts. Cleaned and re-adjusted all playfield switch contacts.
Before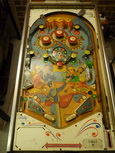 After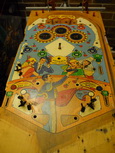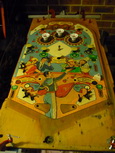 Playfield came up pretty good considering the age of the machine.
Unfortunately early EM plastic playfield posts are not available to buy except for the jewel type posts. These early type posts become yellowish. I decided to paint them white which produced quite good results.
Before Posts Re-painted




Paint used was Rust-Oleum 2x Ultra Cover Paint + Primer Gloss White spray can.
After Posts Re-painted



Playfield Completed