THE GAME PLAY
Bally POOL SHARKS 1990 - 4 Player
A interesting Pool Themed playfield that has 2 Flippers, 3 Pop Bumpers, Bank Drop Targets, Stationary Targets, Ramps and moving shark that talks. The Backglass has a mirrored section, a couple of Shark Head figures and two Busty Babes. Pool Sharks was the first game to offer two modes of play (8 ball or 9 ball). Other features include a plunger skill shot, Captive Ball Cue Stick that can award up to 2 million points, Hot Shot Alley jackpot for 4 million points, a multiple - value Power Shot that rewards everything from Extra Balls and Specials to increased point values, special Combination and Draw scoring and a 3 million point Trick Shot.
The Game Play
Two modes of play (8 ball or 9 ball) can be selected by the flippers before you shoot the first ball. Depending on the game selected, the rules change for which balls need to be spotted and in which order to trigger trick shots.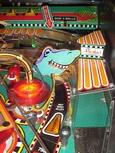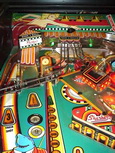 Rating
Game play is very fast, really like the connecting ramps and there is plenty to shoot for - buildable jackpots and plenty of skill shots. Lots of flashing lights and a good array of speech and sounds. And of course, run by one of the best operating system (11C) in pinball. Excellent entry level pinball for the first time pinball enthusiast.
ENTERTAINING GAME.
Judge for yourself.