Miss O Restoration - Playfield
Picked up this machine at a good price and was quite surprised at the condition it was in for its age. Playfield in good condition, all plastics good except for a missing centre horseshoe plastic. Cabinet and Backbox were in bad condition and required repainting. Machine was not running when I purchased it.
Before


Fully stripped playfield - Cleaned playfield with
Novus 2
and applied
Carnauba Wax.






















Flattened and cleaned all the plastics, Replaced all rubbers, light bulbs, Bumper Bodies, Skirts and Caps as well as new Flipper bats.
After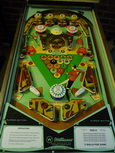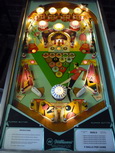 Centre Horse Shoe plastic was missing - Cut a new plastic and applied the scanned graphic with a waterslide decal.