RAMP METAL FLAP REPLACEMENT
These were the rusty metal ramp flaps on my Pool Sharks.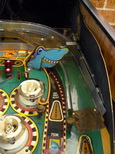 Paint filling blades were used, purchased from Bunnings, cut to size and holes drilled using a cobalt drill bit.
Rivets were obtained from
Pinbits
in the form of a pressless rivet which comes in a kit. This kit included conventional rivets, clips and a small tool to instal them without a press. The finished rivet looks factory from the top, and only a careful look will reveal that the rivet is clipped and not crimped. The clips are very strong and won't let go easily. The clips go on with gentle taps, so there is less risk of damaging your plastics. With this kit, you can fix flaps to ramps and lamp bases to plastics, amongst other things. Here is the finished metal flap fitted to the ramp.